LONSBERRY: No Deal, No Way
Andy Cuomo's deal with Jeff Bezos and Amazon looks less like a bid and more like a bribe, and it must be rejected by the legislature and investigated by the attorney general.
And if the feds want to ask some questions, too, that would be fine.
Because the preposterous raid on New York taxpayers perpetrated by this act of political and business prostitution cannot stand. It is not just another excess of gubernatorial ego, it is a crime.
And it is time for the state legislature to put limits on "economic development" incentives the government can offer, and for the federal legislature to retool anti-trust laws to deal with the robber barons of our day.
Because in this matter, the ambitious governor and the richest man in the world have together victimized New Yorkers of every stripe – from those who pay the taxes, to those who might be benefited by the more conventional spending of those taxes.
Progressives like Alexandria Ocasio-Cortez are right to say that a state whose upstate cities have some of the highest childhood poverty rates in the nation has no business giving billions of dollars to the sixth-largest corporation in the world. And conservatives are right to say that the state can neither afford nor consider wise this sort of redistribution to an out-of-state company that's destroying the nation's retail sector.
And the Democrats and Republicans must work together to stop this.
For the Democrat majorities in the state legislature to approve this deal – in any form – is to be the lapdogs of the governor and the betrayers of the people. Politicians and editorial boards and business groups must speak out against this heresy and demand its scuttling.
It is not enough to criticize this deal, this deal must be killed.
The storeowners and retail employees of New York must not be taxed to subsidize the behemoth that is eating them alive.
And regulators and prosecutors must ask earnest questions about a deal that is so fundamentally and illogically bad.
In Tennessee, the government incentive offered to Bezos and Amazon works out to $13,000 per promised job. In Virginia, it is $22,000. But in New York it is $48,000.
How could Andy Cuomo be such a bad negotiator? How could he be so punked by Jeff Bezos? What sort of incompetent is he? What sort of economic-development staff does he have that people didn't jump up and down and tell him that he was offering dramatically more than anybody else?
But what if the bid – approximately twice as big as Virginia's, for the same number of jobs – is about something else? What if we see in this the governor not being stupid, but devious?
Because this isn't the first time Andy Cuomo has used state tax dollars to lavish money on people who can benefit him personally and politically.
There are any number of felonies popping up having to do with Cuomo donors getting big state contracts and grants, and there is the staggering $450 million a year that the governor gives the entertainment industry – where he curries both donations and progressive support.
And now he is promising billions to one of the biggest Democrat political donors in the country – who also happens to own the "Washington Post," a paper he has turned from arguably the nation's best news product into arguably the nation's best political tool.
It's like feudal Europe, when the serfs would be taxed so that an aspiring duke could make a lavish gift to an all-powerful king.
Except we don't live in feudal Europe, we live in modern America. And this crap can't stand.
Either Andy Cuomo is the biggest idiot ever to sit on the Albany throne, or the biggest crook.
And this offer proves it.
And this offer will prove whether or not there is accountability and balance in the state government.
Because taking taxes from New Yorkers – including upstaters, who are among the most economically challenged people in the nation – to subsidize the corporation of the world's richest man is against the principles of the progressives who are in the legislative majority and the conservatives who are in the legislative minority. There is no shade of gray here, it is black and white. Money should not be taken from workers' paychecks or babies' mouths to be put in the pocket of a powerful man the governor is trying to court.
And this must be stopped.
If Amazon wants to come to New York, let it do so on its own dime. Let Bezos use his billions instead of ours; let Amazon pay out of its profits, not our pockets.
And if the taxes are too high for Amazon, then they are too high for every business. Instead of a massive payout for one, there should be relief for all.
Tax dollars are sacred, because of the labor expended to earn them and the good they could do if properly used. To dole them out in this fashion is a crime against the state and its people.
The governor should be stopped, if not sanctioned and removed.
No deal, no way.
No way in hell.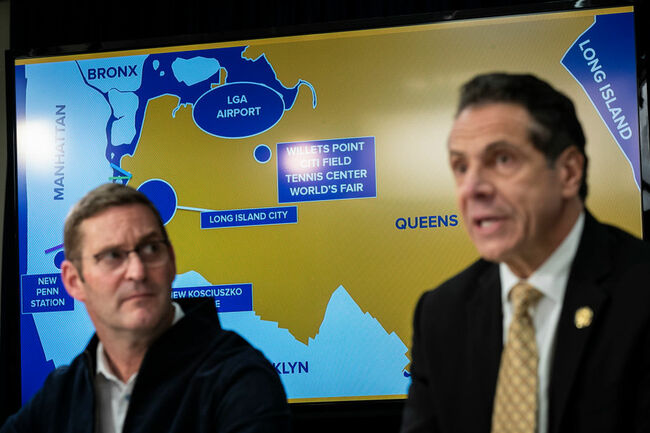 NYC Mayor De Blasio And Governor Cuomo Discuss Amazon 2nd Headquarters Decision NEW YORK, NY - NOVEMBER 13: (L-R) A map of Queens is displayed while John Schoettler, Vice President for Global Real Estate at Amazon, looks on as New York Governor Andrew Cuomo speaks during a press conference to discuss Amazon's decision to bring a new corporate location to New York City, November 13, 2018 in New York City. Amazon announced earlier in the day that it has chosen Arlington, Virginia and Long Island City in Queens as the two locations, which will both serve as additional headquarters for the company. Amazon says each location will create 25,000 jobs. (Photo by Drew Angerer/Getty Images)