LONSBERRY: Trump Should Have Gone
I'm a Trump guy.
But he was wrong Saturday.
Ensconced at the ambassador's residence in Paris, he was scheduled to take a hop some 60 miles to Aisne-Marne American Cemetery, where some of the noblest men of the First World War are buried.
He was in the country to commemorate the centennial of the end of the Great War, a horrific bloodletting that finally came to an end when the Yanks showed up and kicked some ass.
And Aisne-Marne is where some of the epic ass kickers are buried.
Aisne-Marne is where the sons of America, killed in the defense of other men's freedom, are buried on foreign soil. That makes that dirt holy. And it makes paying respects at that sacred place a presidential obligation.
And Trump was supposed to.
It was going to be nice. A wreath laying and some remarks, and a look back over a hard century at the troopers who made America a world power.
But it rained. And it was foggy.
And somebody at White House aviation said it was dicey for a helicopter. That got passed to the SecretS Service and heads got put together and somebody got it wrong.
The visit was scrubbed.
It was the summer of 1918 when American soldiers and Marines began dealing death blows to the German army, and the first of those blows were dealt in the Marne.
At the Marne where a wave of Germans attacked a broad line of allies and saw the entire advance hung up by a company of American soldiers with the 38th Infantry Regiment of what we now call the 3rd Infantry Division. While the best fighters in Europe crumpled, American soldiers held and fought and rained down hell fire, first with their bullets and then with their bayonets.
If you go to Fort Stewart today they will still tell you about the Rock of the Marne.
And it was not far distant at Belleau Wood that the United States Marine Corps declared to the world that the leathernecks were some of the most fearsome fighting men walking the planet. Like so many high points of American history, we got it wrong before we got it right. Marines fell all around from horrible German machine gun and gas attacks in what was, to that point, the bloodiest day in the history of the Corps. But the Marines kept coming. And when the day was done, they had engaged and defeated all or part of five different German divisions, often in hand-to-hand combat, and set a standard that the world wouldn't see again until another generation of Marines took Iwo Jima.
The price of Belleau Wood was almost 10,000 American casualties, including 1,811 who were killed.
Killed and at rest now in Aisne-Marne.
Gone from their homeland for a hundred years.
These are the men the president of the United States was to honor.
But it was raining, and foggy.
And when somebody told Trump that the trip was off, instead of handing the man his ass, Trump went along with it.
Reagan wouldn't have done that. W wouldn't have done that. Obama wouldn't have done that.
They would have leaned in and explained that they were going, and people who wanted to still have careers tomorrow better figure out how that was going to happen.
The White House said a motorcade would have been too much of an intrusion on French traffic, and would have been a two-and-a-half-hour drive each way.
Somehow, that is supposed to make it all better.
Somehow that is supposed to placate the memories of men who died to save France, and who suffered incredible privations in the process.
I think Reagan would have asked for his hat and coat and said that he was going to walk. Actually, Reagan would have borrowed a horse. And any American with a sense of loyalty and a commitment to keeping faith with America's fighting men – living and dead – would have found some way to get there.
The president's chief of staff found a way to get from the ambassador's residence to the cemetery, and so did the chairman of the joint chiefs. But the commander in chief didn't.
And that is incredibly disappointing.
It was a moment of leadership, a way to keep a promise and to assert a principle.
And he stayed home.
Because it was raining, and foggy. And he didn't want to hold up traffic.
How could his staff recommend that, and how could he allow it?
It was the hundredth anniversary of incredible sacrifice, and a peace bought at a horrible price in blood. And it was Veterans Day.
And the president stayed home.
Instead of honoring the men of Aisne-Marne, American heroes who can never go home.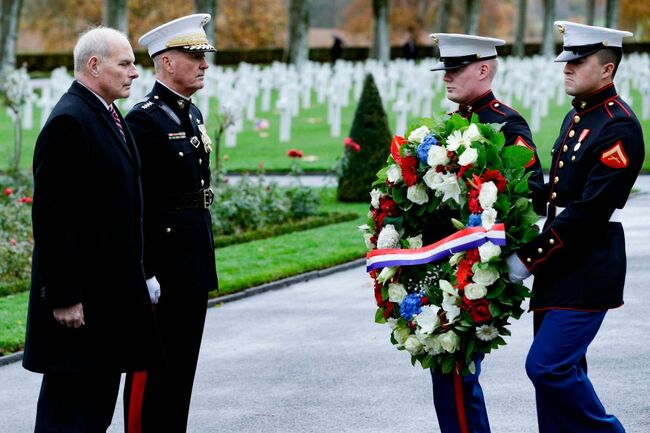 FRANCE-WWI-POLITICS-HISTORY-CENTENARYUS General Joseph Dunford (2nL) and retired United States Marine Corps general John F Kelly White House Chief of Staff (L) visit the Aisne-Marne American Cemetery and Memorial in Belleau, on November 10, 2018 as part of commemorations marking the 100th anniversary of the 11 November 1918 armistice, ending World War I. (Photo by Geoffroy VAN DER HASSELT / AFP)