LONSBERRY: NY Graft Sentences Are A Joke
Four men were convicted and sentenced in a variety of schemes meant to steer something approaching a billion dollars worth of state contracts to big donors and special friends of Gov. Andy Cuomo.
Yes, they all are going to prison.
But, yes, they all will be out in time to contribute to Cuomo's next election.
And that's not justice.
That's business as usual.
And that's what passes for punishment in the most morally bankrupt state in the Union.
In New York, if you steal a car, that's a Class E felony and you're looking at four years in prison. The kind of prison with fences and walls. If you defraud the taxpayers out of honest service in the administration of hundreds of millions of dollars in state contracts, you get two and a half years in prison. The kind of prison with cable TV.
Meet Alain Kaloyeros, Steve Aiello, Joe Gerardi and Louis Ciminelli.
They all punked you.
Kaloyeros was the insanely arrogant wunderkind of the Cuomo Administration, the grand charlatan of the Buffalo Billion and other fictions of "economic development." He shepherded something on the order of a billion dollars to people who gave big political money to the governor.
He gets three and a half years.
Louis Ciminelli hijacked more than $600 million in contracts.
He gets two years.
But not really. His sentence is suspended, and he is allowed to roam free for at least a year while his appeal is put together.
Steve Aiello and Joe Gerardi played the game to garner some $100 million for their company.
Gerardi gets two and a half years, and Aiello gets three.
And you get the shaft.
Because these piddling sentences neither punish nor disincentivize crime. Rather, they make a mockery of the notion of punishment and thereby invite more illegal and unethical conduct.
It comes down to risk and reward. With sentences and payoffs like this, the risk is low and the reward is high, and you can be pretty confident that even now a new wave of Friends of Andy is scheming to donate and cash in.
If my business can rake in hundreds of millions of dollars, and all I risk is two or three years at a white-collar federal prison camp, who do I make the campaign check out to?
It would be enraging, if it were unexpected. But the people of New York are so accustomed to the Empire State's culture of political corruption that nothing's surprising anymore. New Yorkers are the beaten dog that cowers in the corner, it knows the world is wrong, but it has no hope of escape.
And this failure of the federal criminal justice system to clean house in this corrupted state is an extinguishing of the last hope.
The governor, whose campaign coffers were filled by these machinations, has offered eight years of lip service to the fight on corruption. The legislature is as filthy as the governor. The attorney general's office – perpetually blind to Albany corruption – is about to be filled by a Cuomo acolyte. The Moreland Commission on political corruption was shut down midstream, it having been turned into a political weapon and bargainingchip by the governor.
And when the once-respected federal prosecutor Preet Bharara came in like a crusading white knight, we hoped that the federal criminal courts could do what state officials and the ballot box had been unable to do.
But he was a showboat, and this whimpering failure is all that years of federal investigating has come to.
So let's review where we stand.
A governor whose closest associates were engaged in various criminal activities remains securely and perpetually in office. A donor-reward scheme dressed up as economic development was played to the illicit awarding of several hundred million dollars worth of contracts. The state's pay-to-play political culture is larger and greedier than ever.
And these fat-cat Friends of Andy get two or three years in jail.
What a joke.
A cruel joke played on the taxpayers of the state of New York.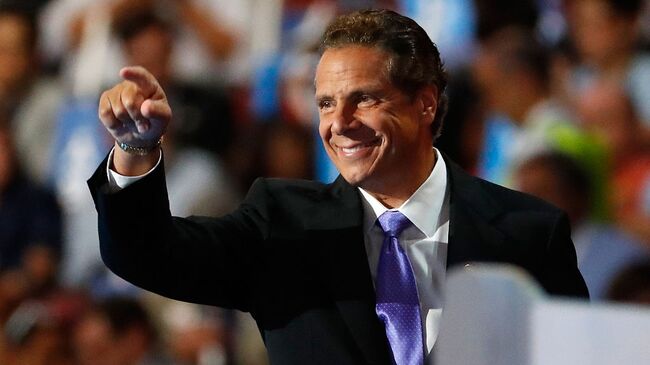 (Photo by Aaron P. Bernstein/Getty Images)

Bob Lonsberry
Want to know more about Bob Lonsberry? Get their official bio, social pages & articles on NewsRadio WHAM 1180!