LONSBERRY: Election Was Democrat Disappointment
The pissed-off progressives failed.
The lesson of Election Day is that the angry left was rejected.
Democrats lost their three marquee races, failed in every contest where Barack Obama rallied, barely won the House and underperformed every House projection, and saw their enrollment surge mirrored and muted by a similar uptick in Republican ranks.
And if last night was a referendum on Trump, then Trump must not be doing so bad. He had one of the smallest first-midterm House losses in modern times, and he increased his party's control of the Senate in a significant fashion.
And the only place the "We Hate Trump" campaign worked for Democrats was in areas where they had dramatic enrollment advantages, typically of 50% or more.
Yes, they took control of the House of Representatives, but by an anemic and unconvincing margin.
They needed a net gain of 23 seats. Most projections expected them to get 50. They got 27. That contrasts with net Republican gains of 63 in Obama's first midterm and 54 in Clinton's first midterm.
That means, in the context of their times, Americans were more trusting of Trump and his Republicans after two years than Americans were of Obama and Clinton and their Democrats after their first two years.
He might be, as the Democrats campaigned, the worst president ever, but he's better than Obama and Clinton.
Yes, Democrats won the House, but they will have a small margin, and certainly no mandate.
And where their superstars ran, they came up empty.
Stacey Abrams lost in Georgia, in spite of Oprah. Andrew Gillum lost in Florida, in spite of Obama. And Beto O'Rorke lost in Texas, in spite of the news media.
And the news media got it wrong from coast to coast.
The weeks-long characterization of the electoral dynamic was disgust with Donald Trump and an embrace of the Democratic Party. Newscast after newscast, column after column. A tidal shift was proclaimed.
But it simply didn't happen.
The news media completely missed the sentiment of support for Trump, which also percolated and rose, and ended up being dead wrong in their precharacterization of the election and its outcome. Some will see that as incompetence, others will see it as complicity.
The media saw what it always sees – support for its progressive agenda.
The media didn't see what it never sees – the earnest feelings of those Americans who view life differently.
Americans who wonder if the media was reporting or advertising.
What does Democrat control of the House mean? Chairs will be shuffled, staffers will lose jobs, investigations will be held, and Nancy Pelosi will wield the gavel.
But a narrow margin like this makes impeachment unlikely, as not every Democrat congressperson could politically survive voting for it. Nor could every Democrat congressperson survive being a Trump obstructionist for two years. That makes compromise more likely – as Nancy Pelosi pledged last night – and that would be a good thing.
In the other half of Congress, the increased Republican margin in the Senate primarily benefits Donald Trump.
He has a bulwark against impeachment, should articles be reported out of the House. He also has, more practically, a big enough majority to protect himself from the saboteurs of his own party – people like Mitt Romney or Rand Paul who are of the Jeff Flake and John McCain bent, seeing a narrow Republican margin as a way to foil Trump and enhance their own self-importance.
That margin will also make confirming judges easier – including to the Supreme Court.
It was supposed to be the national rebuke to Trump and the Republicans, a referendum on a president everyone supposedly hated. It was supposed to be the launching pad of the next wave of Democrat giants.
But it was none of those things.
It was a House reversal less than half the size of that dealt Barack Obama, it was a Trump victory everywhere he rallied, it was a failure in each of the marquee races, and it was no bellwether of future elections.
It was a much-hyped dud.
And it ought to give the Democrats serious concerns about 2020.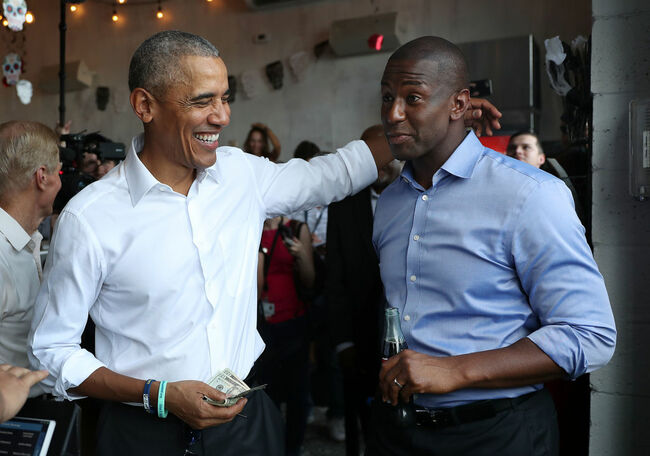 MIAMI, FLORIDA - NOVEMBER 02: Former President Barack Obama orders lunch with Florida Democratic gubernatorial candidate Andrew Gillum at the Coyo Taco restaurant on November 02, 2018 in Miami, Florida. Former President Obama visited the area to campaign for Nelson and Gillum who are in tight races against their Republican opponents. (Photo by Joe Raedle/Getty Images)

Bob Lonsberry
Want to know more about Bob Lonsberry? Get their official bio, social pages & articles on NewsRadio WHAM 1180!