Gun Store Closed by Court Order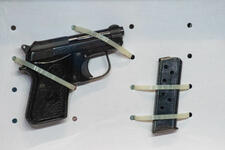 A judge has issued an order shutting down a Parma gun dealer after two burglaries of his store
this week.
Chinappi's Gun Shop on Route 104 has been ordered to temporarily cease and desist doing business. The Monroe County Sheriff's Office removed the remaining firearms and ammunition from the store, working through the night to secure the remaining inventory.
As a result of the investigation, the sheriff's office says multiple search warrants were served throughout the City of Rochester, but there's been no word yet on any arrests.
Deputies say 45 firearms of all types were stolen in the burglaries earlier this week. It was the seventh burglary in which guns were stolen from the shop in the past decade.