Guns Removed From Chinappi's Firearms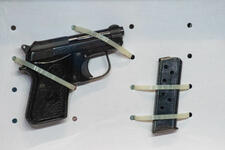 The Monroe County Sheriff's Office says 45 long guns and handguns were stolen in a burglary at a gun store in Parma. Chinappi's Firearms at Routes 104 and 259 was broken into TWICE over the last five days.
Chief Deputy Michael Fowler says the sheriff's office has made several previous attempts with the owner of the store, August Chinappi, to prevent further burglaries. Now he says Deputies are removing the remaining guns from the store. Chinappi's federal firearms dealer license is under review.
Authorities say this is the 7th time the store has been burglarized since 2007.