Airport Canopy Work Underway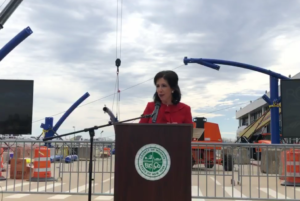 Work began today on the steel arches that will support the new canopy at the Greater Rochester International Airport terminal. It's the capstone of the $79 million renovation of the Rochester region's airport.
A beam-raising ceremony led by County Executive Cheryl Dinolfo kicked things off. Dinolfo says the canopy gives Rochester's airport a "wow" factor and a good first impression of Monroe County.
In addition to protecting arriving and departing passengers from the weather, the canopy will be equipped with facial recognition cameras and color-changing lights.
Interior renovations will include a Strong Museum play area with giant Etch-a-Sketch and Pong games, an expanded security area and restaurants.