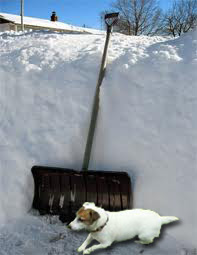 Wishbone has his own tips and tricks for getting around in the snow which work just fine if you have four paws…and someone to shovel for you. For those "less fortunate" he sought advice from The Snow & Ice Management Association in regard to tips for walking in ice and snow.
Wear proper footwear. Wear shoes with heavy treading and a flat bottom that place the entire foot on the surface of the ground.
Wear things that help you see and be seen. Wear sunglasses so you can see. Also, bright and reflect clothing help you be seen by drivers.
Plan ahead. Walk consciously on icy sidewalks and parking lots. Look up to see where the next icy spots are and be aware of any vehicles near you.
Listen. Avoid listening to music or talking on the phone while walking in icy or snowy conditions. Pedestrians need to be able to hear approaching traffic or other noises.
Anticipate ice. What appears to be wet pavement may be black ice, so approach it with caution. Ice will often appear in the mornings, so be more aware in the early hours.
Take steps slowly. When walking down steps, take them slowly and deliberately. Plant your feet securely on each step and be sure to have a firm grip on the handrail.
Enter buildings slowly. The floors of buildings may be covered in melted snow and ice, so check the entrance and try to step on any rugs in the doorways.
Avoid shortcuts. A shortcut path may be dangerous because it is less likely that snow and ice removal occurred.
Look up. Be aware of what you're walking under. Falling snow and ice can cause injuries.
---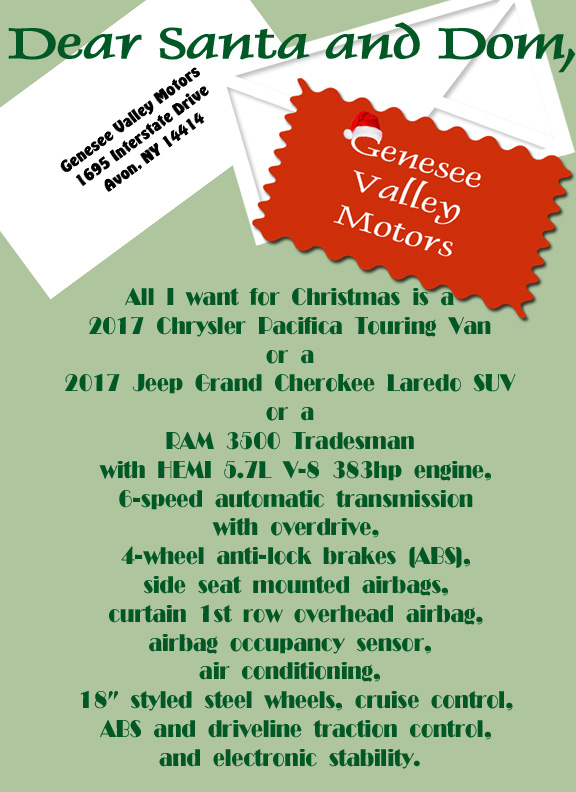 ---
December is a whirlwind of activity. Chestnuts Roasting. Stockings Hung. Making Lists. Checking them Twice. No where is there a to-do list that includes cleaning out the attic, cleaning out the garage, painting, wallpaper removal, carpet removal. That's okay. Enjoy the month of December and sing like no one is listening. And then call Basement to Attic Solutions for all the things that were not on your December to-do list.
Basements

Basement Waterproofing: mold, mildew, musty smell elimination. Walls repaired, drylocked, floors painted
Crawlspaces- cleaned, treated for mold, drylocked and sealed
Exterior grading, drainage, gutter down spouts corrected
Glass block windows

Interiors

Wall papering
Textured- swirled, repaired, repainted, or redone
Painting
Wall papering

Household-
Estate Sales

Professional courteous sales. After sale clean outs, cleanups.

Carpets- old, damaged, dated, removed, and thrown out

Attics

Fiberglass insulation plaster repairs
Baffles installed to improve ventilation
Bath fans vented to outside
Mold, mildew problems cleaned up, sealed-encapsulated

Garages

Clean outs- clean ups, vacuuming

Garages sales- painted or concrete stained

Tear-Outs

Basement, household moldy, water damaged walls, ceilings removed

Carpets- old, damaged, dated, removed,
and thrown out

Dumpster Service

Professional courteous sales. After sale clean outs, cleanups.

Carpets- old, damaged, dated, removed, and thrown out

Clean Outs

Basement, household, garage, attic, crawl space clean outs

Call Jamie Coonan at Basement to Attic Solutions
585-392-5076
---
---
Bizarre! Really Bizarre!
Wang Tzi-wei is the owner of a chain of twelve theme based restaurants in Taiwan. Nothing bizarre about that, right? Hold on...they are called Modern Toilet and the patrons sit on toilets, sip soup from sinks, and wipe their mouths with toilet paper.
Don't believe it? Here's what is really hard to believe...the reviews on Trip Advisor weren't all that bad!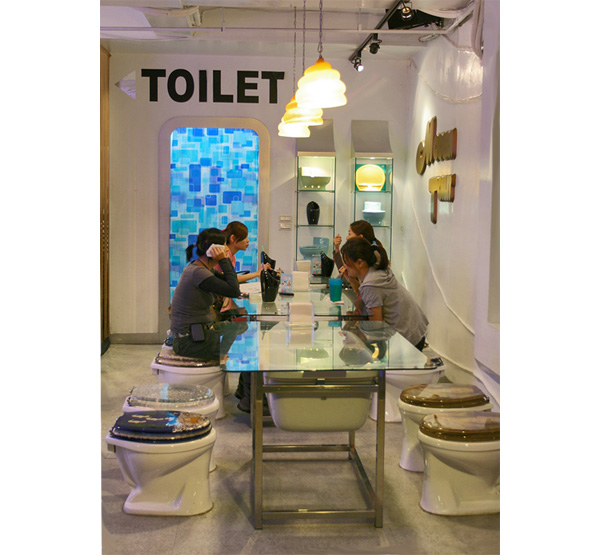 Image: 1v0/Flickr
---
High Density Foam
Infrared Inspections
Bio-Based & Low Density Foam
Air leak Sealing
Ice Damming Resolution
Foam Injection
WHO ARE WE TALKING ABOUT? JAG CONSTRUCTION OF COURSE!
Jag Construction has been serving the Rochester area for over thirty years and has certainly earned the title of EXPERTS in the field of insulation! Over thirty years equates to a lot of customers that have benefitted from Jag's service and knowledge. You can benefit too by having Jag Construction update your home with Spray Polyurethane Foam (SPF) Insulation:
Most thermal efficient product on the market
Enhances home comfort by allowing you more control over temperature and humidity levels
Highest R-value: R7/inch
Reduces levels of airborne pollutants entering the home
Will not shrink
Will not settle
SPF is odorless
It does not attract rodents and insects because it has no nutritional value
Reduces your home heating and cooling energy consumption by 25% to 50%
Increases the market value of your home because of the low operational cost by comparison
Increases your mortgage qualification and buying power due to reduced maintenance costs
Allows you to downsize your heating and cooling system, saving you even more money
Energy Star product endorsed and certified by the NYSERDA
Recoup your investment within 5 to 7 years through less energy consumption

www.jagconstruction.com
585-621-7040
---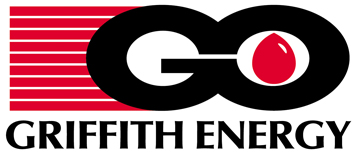 For Over 90 years
The most beneficial way to reduce fuel consumption in your home is to upgrade to a high-efficiency heating and cooling system, and then keep it properly maintained. Griffith Energy promotes energy conservation by supplying and installing high efficiency home comfort systems from world class manufacturers. When a customer upgrades their system they can reduce energy usage by 30% or more. Griffith's highly trained technicians perform precision installations so that every new system achieves optimal performance. Griffith Energy is able to continually service and maintain your home comfort system to keep your family comfortable
and safe. Contact them today .

---

The History of Brodner Equipment Inc.

2010 marked the 50th anniversary of Brodner Equipment. Mike Brodner and Leo Baum, behind Brodner's Hardware in North Chili, originally started the business in the late 1950's. At this time, gasoline powered lawnmowers were just becoming popular.
In the early 60's, the hardware store was sold and Mike opened "Mike Brodner's Korner." This was a family operated grocery store and butcher shop located at the corner of Buffalo and Coldwater Road. At the time, Mike's son-in-law Leo Baum started Brodner Mower. This Business relocated to its present location at Lyell and Elmgrove Road in 1966.
In 1974, Tim Baum, Leo's son, took over ownership of Brodner Mower. It continues to carry his grandfather's name as Brodner Equipment Inc. The business has grown to 12 full-time and 4 part-time employees.
Although small from the front, Brodner Equipment is the largest Honda Power Equipment and Exmark Commercial Mowing Equipment dealer in New York State. It is also the oldest and largest Arctic Cat dealer in western New York.
For over 55 years Brodner Equipment Inc. continues to deliver quality products with excellent customer service.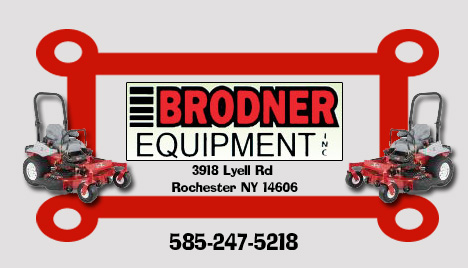 ---

Ham and Potato Soup Serves 8
Recipe photo by AllRecipes
Ingredients:
3 ½ cups of peeled, diced potatoes
1/3 cup finely chopped onion
1/3 cup diced celery
3/4 cup diced cooked ham
3 ¼ cup chicken broth
½ tsp salt
1 tsp ground pepper
5 tbsp butter
5 tbsp flour
2 cups milk
Directions
Combine potatoes, celery, onion, ham and broth in a stockpot. Bring to a boil, then cook over medium heat until potatoes are tender, about 10 to 15 minutes. Add in the salt and pepper. Stir.
In a separate saucepan, melt butter over medium-low heat. Whisk in flour with a fork, and cook, stirring until thick, about 1 minute. Stir in milk slowly so as not to allow lumps to form until all of the milk has been added. Continue stirring over medium-low heat 4 to 5 minutes until thick.
Pour the milk mixture into the stockpot, stir well and cook soup until heated through. Serve immediately.
---
WILDLIFE CROSSING X WHAT TO DO IF AN ANIMAL RUNS OUT IN FRONT OF YOU
In rural areas, wild animals can be a serious traffic problem! Here are 5 tips to remember if an animal runs out in front of your vehicle:
1) Scan the road and shoulders ahead of you
2) Use high beam headlights if there is no oncoming traffic
3) Be extra aware at dawn and dusk
4) If a collision is unavoidable, apply brakes firmly and remain in your lane
5) ALWAYS wear a seat belt, remain awake, alert and sober.
---
Plumbing problems don't wait until the timing is convenient for you. Thankfully, Mr. Rooter® Plumbing is available 24/7 for emergency repairs, including holidays.
Click on the banner below to visit their website:
585-235-6000
___________________________________________________________________________________________________________________________________________

A book never runs out of battery.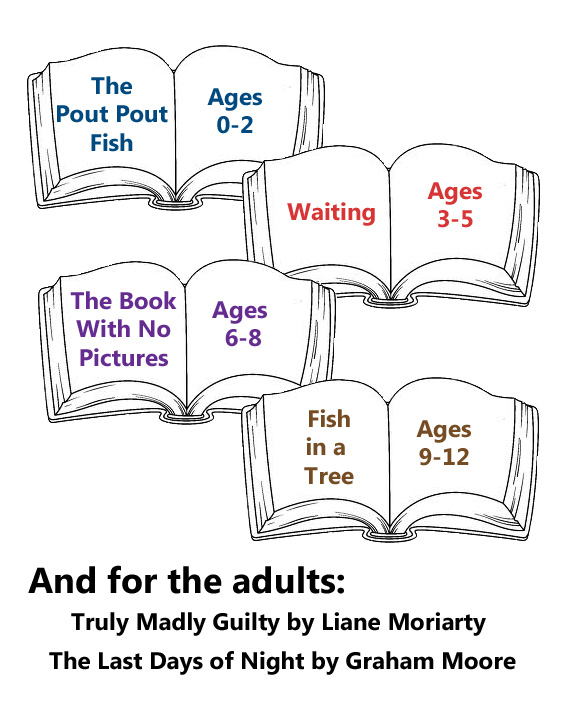 ---